Welcome
Hello and thank you for visiting my page. My name is Zoe Paul and I offer reflexology in Lincoln as well as indian head massage treatments in the comfort of your own home.
I am qualified in Level 5 Practitioner Reflexology – the highest qualification available in the UK – and I also hold the Level 5 Centralia Mastership in Reflexology which includes training in NEPIP (NEPIP training is only available from practitioners holding a level 5 qualifications).
I graduated from the Anahata school of reflexology in Lincoln and I am a member of Professional Reflexology. In addition to holding a reflexology qualification I also have trained in Indian Head massage with the Anahata school of reflexology.
As well as offering beautiful holistic and complimentary treatments to lovely individuals I currently work as a teaching assistant. I am a mum to three busy teenagers. I love to learn and so I am always developing my skill set, my recent training includes NLP, Foot reading, Reiki and spirit healing. This year I am training in RLD a special technique that focuses on working the lymphatic system. This can support people with lymphedema, arthritis, asthma, eczema,chronic fatigue, fibromyalgia, ME, sinus problems, migraines, headaches, muscular tension, aches and pains and premenstrual syndrome. I am also studying of my hypnotherapy qualification, exciting times for me.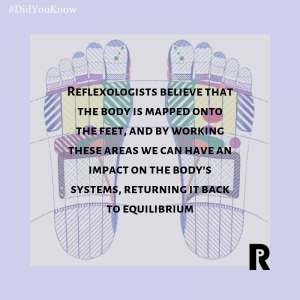 Did you know: The letters PR or MAR after a therapist's name have denoted their full membership status of either professional body, demonstrating that they have met the strictest standards of reflexology practice, and that they are committed to continually developing their skills and knowledge, together with agreeing to abide by the Association's Code of Practice and Ethics.